CASE STUDY
Windsor House | Crane Lift
In the summer of 2021 Avrenim Developments team was appointed by Mersey Care Foundation Trust to undertake refurbishment works to one of their listed properties. 
As a part of the refurbishments works, Avrenim has been responsible for managing lifting procedure of steel beams to enable erection of the scaffold  at Windsor House. 
The preparation for crane lift and scaffold erection began with obtaining a permit from Liverpool City Council to close a section of pavement as well as the carpark opposite to Toxteth Library.
Once the permit was obtained, the team have created posters and leaflets that were distributed among the staff with posters being displayed in the  visible areas and leaflets left on car's windscreens. This was operation was being done for  5 days prior to ensure that carpark will be closed.
24 house prior to crane lift, labourers have corned of the area using Highway Traffic Cones to return to the site in the morning to install Heras fencing in its place.
Crane lift was scheduled for a Sunday morning at 7.00 to minimise congestion on site and maintain undisturbed access to the building.
Upon all of the preparation, team arrived to couple cars being parked in the carpark despite the road closure barriers in place and all of the notices being displayed.  
Crane Driver along with Avrenim Project Manager have assessed the situation and came up with a adequate solution to allow crane lift to go ahead as planned.
The steels have been transported securely onto the roof with the help of the Appointed Person supervising the beams from the ground. Second team working on the roof was waiting for the individual steel beams to be lifted onto the roof to then secure them in their position as per our structural engineers drawing.
CLIENT
Mersey Care Foundation Trust
PLACE
Windsor House
TYPE OF WORK
Temporary Works
BUDGET
£30 000
DURATION
8 weeks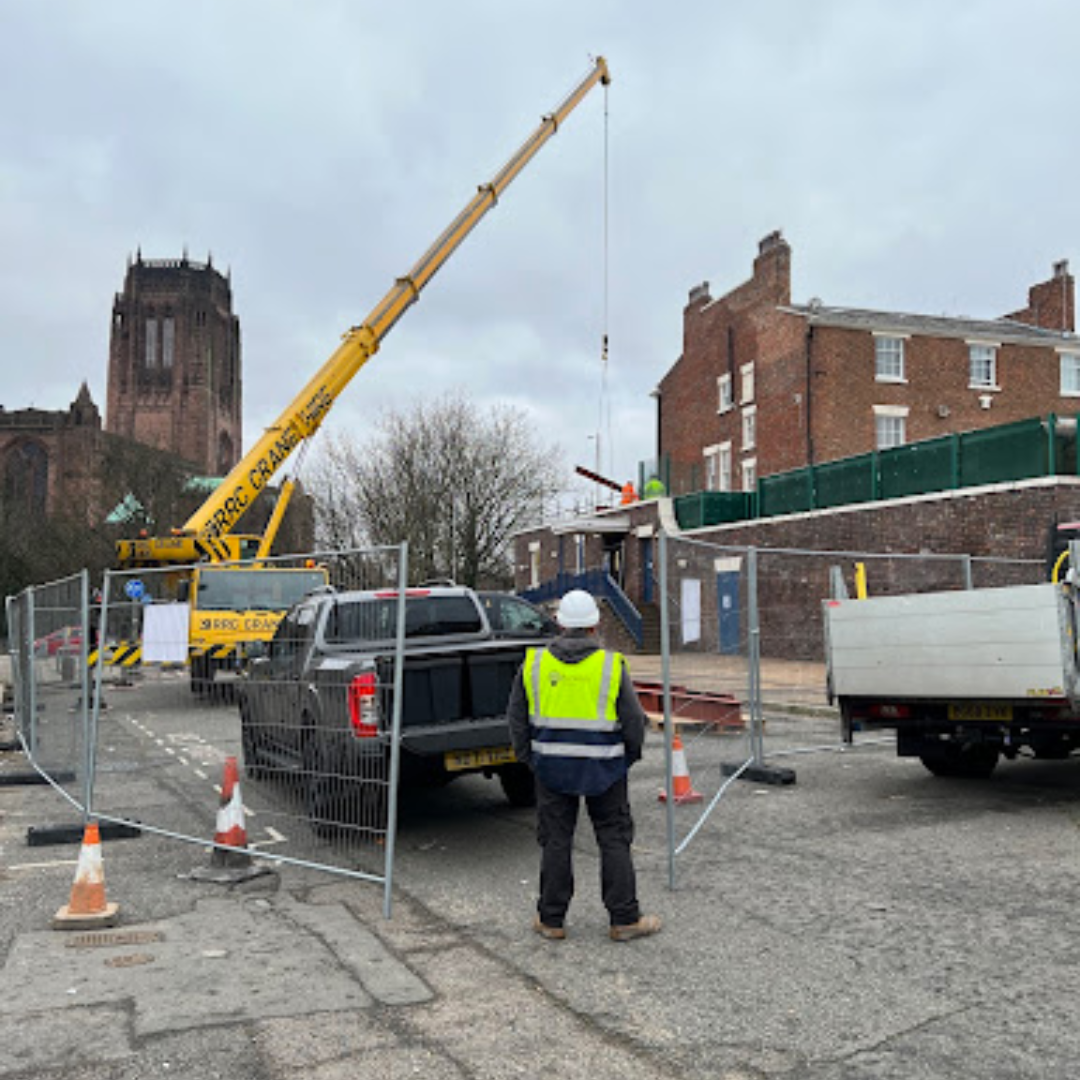 Challenge
The biggest challenge of this operation was working withing the public space.
Solution
Traffic management aids ie traffic marshal, barriers and adequate signage were used to prevent unauthorised access to site and notify public of alternative route.
Result
All steel beams were successfully delivered so we could move on to next stage of the project.