The Latest News
Avrenim adds Warrington & Halton Teaching Hospitals NHSFT to its FM customer base
02.08.2022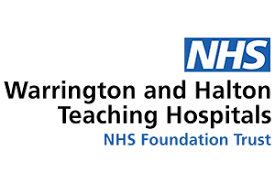 Avrenim have been successful in being awarded a 3 year contract to inspect, maintain and repair/replace fire doors for Warrington & Halton Teaching Hospitals NHS Foundation Trust at the Warrington Hospital site. It is anticipated the contract will start in September 2022 running through to August 2025 although the contract includes a 1 year extension option. Simon Mattravers, Avrenim FM Director, said 'This is our first major FM Contract win for this Trust and we are truly grateful for the opportunity to deliver BM Trada compliant fire door inspections and maintenance to their Warrington Hospital site. My team are excited and proud to have won this contract and look forward to delivering the service and meeting customer expectations in our response and quality of service.'
Avrenim and the Coniston Challenge for Alder Hey Children's Charity
20.07.2022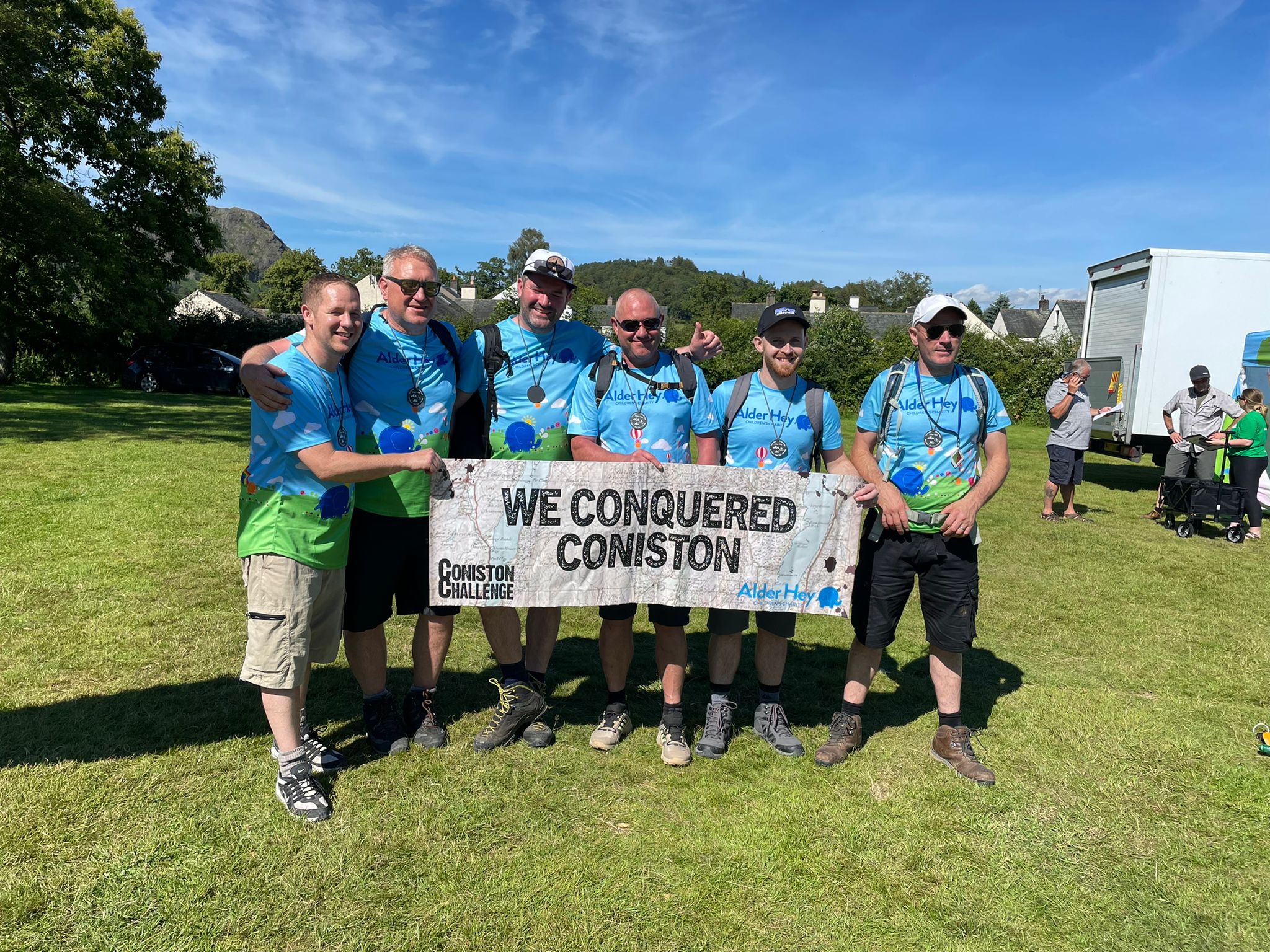 As part of our Annual Charity Drive, we put together a team to enter the Coniston Challenge on the 9th July, which involved a 17km Mountain Bike trail through the Grizedale Forest, 3km Kayak row across Coniston Lake and a 10km trek up the Old Man of Coniston.
All the money raised by the competitors of this challenge has been put towards the Neonatal Intensive Care Unit.  The unit will offer 22 neonatal cots for Liverpool and will feature 18 individual family rooms where parents can be alongside their poorly new-borns whilst they're receiving expert care.  It will address a shared concern between Liverpool Women's and Alder Hey that babies who need specialist surgery currently have to be transferred to Alder Hey to get the specialist surgical care they need and are then transferred back to Liverpool Women's Hospital to continue their specialist neonatal care.
The team consisted of Phil Hyde, Phil Hill, Tom Hughes, Tom Creighton, Barry Hughes and Lee Williams.
Here is an overview of the event on the day as written by Lee.
A few of the Team – Phil Hill, Tom Creighton and I headed down on the Friday after work and set up base camp in preparation of the gruelling day to come.  We were issued with our starter pack comprising of T-shirts, maps and our running order which was bikes, kayaking followed by the walk.  We had a walk into Coniston to be met by lots of competitors enjoying the weather and chilled beverages.
The next morning we were rudely awoken by the arrival of Barry Rogers at 5:45 who decided that he wanted to get an early start.  This included as he declared, the breakfast of champions.
Tom Hughes who drove up on the day met us just before we went for breakfast, of which the set-up was amazing and the quality of food was outstanding.  We queued up and were given a bacon and egg roll with cheese and sauce.  Followed by an item of fruit, a soft drink and a hot drink.  Which was more than enough to get us started.
Phil Hyde then came down from the next village where he had stayed the night as he doesn't like camping. The team was then complete.  All we had to do then was apply sunscreen and head off for the briefing, which was short, concise and to the point.  Effectively look after yourselves, drink lots, keep up with sun lotion and have fun, once you have signed all liability away 😊.
Onto the day…
The bike ride started off gently, as we pedalled out of the village and up towards the forest.  Once out of the village we hit our first steep assent, which certainly got the blood flow going.  We were one of the first teams out and gave it our all.  The view of the lake was spectacular, but we couldn't dawdle as we were all focused on keeping upright due to the varying ground conditions.  Overall, It was hard going but we all persevered and made it to the finish line in a respectable 8th place @ 1hr 18mins with no loss of life or limbs.  Also, just to add due to the ebike scandal none of our bikes were ebikes unlike some of the faster teams.
Second challenge was the kayaking.  It was meant to be 3km but people's GPS gave a distance of 4.2km because of currents and the wind.  It went pretty well considering that some of the co-ordination to start with was severely lacking (some practice may have helped) and included the capsizing of one of the kayaks.  Phil Hill and Barry Rogers took the plunge and were eventually able to slither back into the kayak to complete the challenge.  I wish I could describe the pure comedy but alas you had to be there. However, we still came in at a respectable 58mins.
Then last but not least, we tackled the old man of Coniston.  It took us under 4 hours from base camp to ascend and descend covering a distance of 12km.  It was hard going and a lot higher than I had anticipated… so much so I got a medal from Fitbit for climbing in excess of 300 flights of stairs in 1 day.  The view from the top was incredible and the sense of achievement gave me enough of a boost to complete the descent.
The sun was shining all day and with the temperature around 26c it was probably too hot but we all made the most of the day.  I must commend the Alder Hey team, as they have really looked after us, corralled us and kept up the motivation all day.  To sum it up they were nothing short of amazing.
Our total time to complete all the activities was just over 6hours not including lunch or walking to the start points.
It's been a great day, a tough day and a day to be repeated?? Well the jury is out on that one…
Now to the presentation and the pub afterwards to celebrate…..  👍👍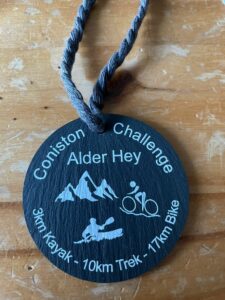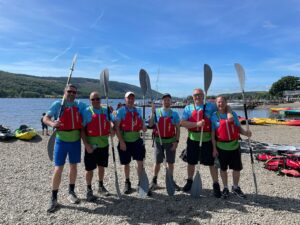 Avrenim add Calderdale Council to their Customer base
15.07.2022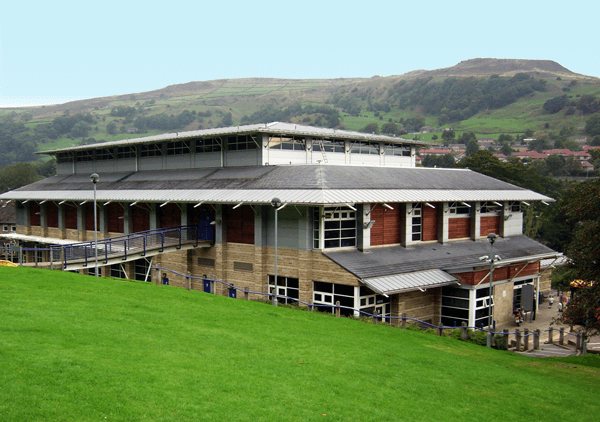 Avrenim have been appointed by Calderdale Council to design, supply and install roof mounted Solar PV array at Todmorden Leisure Centre. The works consist of installing Solar PV to the roof of the leisure centre and upgrading and repairing the man safe latch line around all areas of the roof. The works once completed will greatly reduce the Leisure Centre's reliance on expensive grid electricity and reduce the building's carbon footprint and represents a significant step on the journey to net zero for the facility. Matt Biggs, Avrenim's Head of Renewables, who led on the design and proposal stated, "we are being appointed to do more and more of these large building solar PV installations and as we build our experience we will be able to complete these installs quicker and therefore at less cost to our customers.  Adding another Local Authority to our growing list of government customers represents another important milestone within Avrenim and its ambition to support its customers' journey to net zero"
Avrenim awarded a place on Crown Commercial Services "Facilities Management and Workplace Services Framework"
30.06.2022

North West facilities management company, Avrenim, has joined a select group of businesses recognised by the Government for their quality of work. The Liverpool-based company is one of just 44 to be awarded a place on the new Crown Commercial Service's (CCS) new Facilities Management and Workplace Service framework. CCS provides commercial and procurement services to the public sector. By using CCS agreements, customers can buy commonly used goods and services quickly and cost-effectively whilst complying with EU and UK procurement regulations. The new framework supports the principles of the Government's Sourcing Playbook – this material contains rules, principles and guidance on how government departments should make decisions about outsourcing projects. The framework emphasises the need to heavily weight 'quality' in its contract award criteria, rather than lowest cost. This move emphasises the importance of social value and optimum pricing methodology for often complex requirements. As well as being required to attend regular, structured meetings with their customers, suppliers will submit quarterly returns to CCS showing how they are adhering to, as a minimum, baseline requirements for social value activities including modern slavery, carbon net zero, SMEs, under-represented groups, apprenticeships and prompt payments. Founded in 2018, Avrenim Group Facilities Management, provides consultancy and advice on projects and refurbishments to customers in Merseyside and the North West – specifically, those in healthcare, education, charities and local authorities. The company has recently announced a move to focus on supporting customers in transitioning to net zero, either through its maintenance activities, asset lifecycle or building refurbishment works. Simon Harris, Avrenim's CEO, said: "Being included in the new CCS Facilities Management and Workplace Service framework is fantastic news for us, and a clear demonstration of the quality of our work.
"As our service delivery is based on the principles of quality, safety, value and transparency, it means those appointing Avrenim through this framework can do so with confidence." Noreen Winhall, Commercial Director, Buildings at Crown Commercial Service said: "The Facilities Management and Workplace Services framework is a key part of our suite of buildings frameworks. "We can support our customers through the whole lifecycle of a major project – from inception through to facilities management and on to demolition, aggregating public-sector buying power to grow the UK economy. "The new framework has the Government's latest policy priorities baked in, enabling better outcomes on key social value priorities like modern slavery, providing opportunities for SMEs and VCSEs, and carbon reduction."
Avrenim has added Liverpool City Council to its customer base
30.06.2022

Avrenim has won a contract to refurbish building fabric at Abbotts Lea School in Woolton Liverpool. The work includes the repair and replacements of fire doors throughout the school. This work will be completed during the school holidays this coming summer. John Newberry (Avrenim Chairman) announced the award to the Avrenim team upon completion of the mandatory stand still period and added that this award marks the addition of a significant new public sector customer for Avrenim in Liverpool City Council. Avrenim look forward to working with the council on this and future contracts.
Avrenim is branching out into Greater Manchester
30.06.2022

Avrenim has been appointed as Principle Contractor by the University of Salford to undertake internal strip out works, structural alterations and refurbishment works to convert a floor in the Maxwell Building into 6 clinical treatment rooms with a reception area, large waiting area and 2 circulation areas. The works are to be carried out in 2 phases. John Newberry (Avrenim Chairman) thanked the bid team for producing the winning proposals and added that the award was our first contract award in the Greater Manchester region and continued Avrenim's growth within the education sector in the North West.
Construction Line Gold Member status
28.04.2022

Avrenim Group are proud to announce that we have been certified with Construction Line Gold Member status, further providing our customers with assurance on guaranteed minimum standards for quality, safety & compliance.
DHU Health Care in Derby go solar!
20.04.2022

Avrenim has been instructed via Overbury to install and commission solar roof panels to a building utilised by DHU Health Care in Derby. Great work winning this commission by the Avrenim renewables team and we look forward to working with two new customers in Overbury and DHU Healthcare.